We know that our staff is our greatest
asset here at Cutting Edge Entertainment.
Our DJs and KJs can get your audience involved in what's going on and make all of your announcements professionally in a clear and distinct voice. We employ a variety of different people, each with a different style to their personality. If you have seen one of our DJs perform in the past, you may request a particular one for your event and we will do our best to accommodate your request.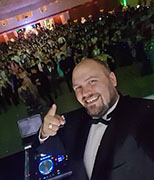 Wes is a Texas native, raised in Lockhart. At 19 he traveled to Las Vegas, NV to discover new opportunities and to find his passion. While helping a friend run a sound system for a corporate event, he found out how much he loved watching a crowd react to music. He began his DJ career in 2011 and has performed at over 300+ weddings. Wes also attended The Art Institute of Las Vegas to pursue his degree in Graphic Design. "As an emcee, I love engaging the crowd and setting up the special moments over a microphone. When it comes to being a DJ, I know from experience that the song selections can make or break any event. That's why I take care in going over what the client wants to hear and what they'd never want to hear. It's important to me so that can I determine just where the night will take us so that we all have a phenomenal time." Wes returned to Texas in 2014 and he is still pursuing his passion: Being an outstanding entertainer and emcee!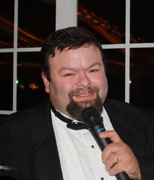 Steven began his DJ career at a high school reunion in Georgia in 1998. He went on to DJ other small events as well as work for a radio station in Valley, Alabama. Steven moved to Texas in 2002 after meeting his wife in Waco at a Star Trek convention, and then joined Cutting Edge Entertainment in 2005. During the week, he works full time at Brandeis High School as a Special Education Instructional Assistant. He also currently attends A&M University – San Antonio, pursuing a bachelor's degree in Special Education. Steven will eventually teach in the classroom, but he still loves his side job as a DJ. His other interests include fishing in Corpus and going to Star Trek-related events. What originally began as a hobby has now become a passion for sharing his love of music for all clients of Cutting Edge Entertainment.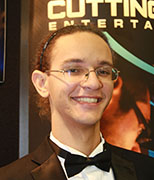 Patrick is currently attending the University of Texas at San Antonio and is pursuing a degree in Computer Engineering.  He was born in Austin and has been living in San Antonio for the past 5 years.  Patrick enjoys swimming, coding, relaxing with his girlfriend, video games, and exploring.  He is very passionate about music and hosting successful events, and enjoys the thrills and challenges that entertaining provides!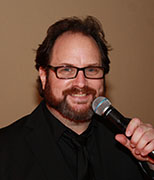 Larry was with us back in the 2000's and he is back for more!  Larry Dale, aka DJ Lars, DJ Emeritus, has worked in music hospitality and event production since his teens in the late 80's.  He has a degree in communication from University of South Florida and a broad background in club promotion, radio, music, and media sales and audio engineering.  His vintage stereo conservation project is at www.RevolutionSoundsTX.com.  Larry's wife, Shannon, is a Master classical flutist and music teacher and they love raising their two little girls in a music-filled home.  He looks forward to your celebration!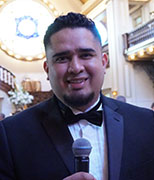 Bio for Carlos is coming soon.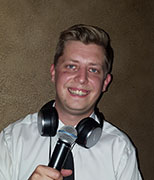 Tavyn was born and raised in San Antonio, and has worked in the Food and Beverage Industry for the past nine years.  As an avid lover of music of all genres, he is incorporating his love of music into his position here at Cutting Edge.  He feels that an essential part of DJing is reading one's listening audience and changing and shaping  the musical groove to suit any type of audience or event.  He aims to please even the most discriminating ear!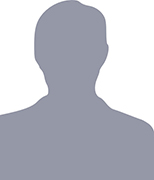 Bio for Anthony is coming soon.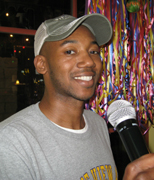 Hunter is from the sizzling southern city of Shreveport, LA and has a diverse background in musical entertainment from songwriting to performing with high stepping marching bands. He earned a bachelor's degree in Business Administration in Marketing from A&M University the same year he sang his first karaoke song back in 2005. Hunter administers service and supply contracts across the nation in support of various government agencies. Karaoke is his passion and he encourages all to sing his or her heart out by singing a song you know, or don't know, as long as you are having fun.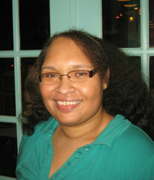 Cynthia has been a native to San Antonio ever since arriving at the age of two. She's been intermittently behind a camera since 2003, these days preferring photo manipulation. She manages our photobooth and loves to get our event guests to act silly which always yields fun pictures! She has also loved karaoke since she was a teenager and she enjoys hosting one of our weekly shows. Cynthia also aspires to be a professional baker.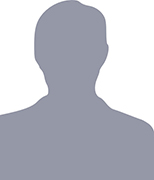 Bio for Courtney is coming soon.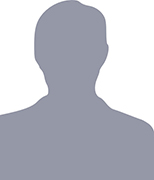 Bio for Benny coming soon.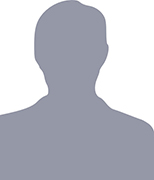 Bio for Tony is coming soon.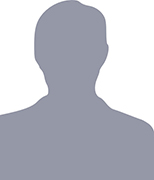 Bio for Damon is coming soon.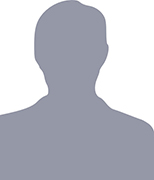 Bio for Mike coming soon.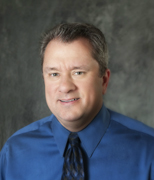 Ron started as a mobile disc-jockey in Chicago in 1987 and came to Cutting Edge in 1990. He has an extensive radio background, working for the legendary WLS in Chicago, and then upon moving to Texas, worked at Power 93 in the late 80's and eventually spending 17 years at KISS Radio as "Ron James". His extensive experience and commitment to superior customer service is passed along to the staff at Cutting Edge on a regular basis. He loves music and working one-on-one with clients to integrate their favorite styles into their event. In his spare time, Ron loves spending time with his family, playing poker, and being outdoors (when it's not 100 degrees!).