We know that our staff is our greatest
asset here at Cutting Edge Entertainment.
Our DJs will work hard to play the styles of music that YOU want to hear as well as make professional announcements in a clear and distinct voice. We employ a variety of different people, each with a different style to their personality. If you have seen one of our DJs perform in the past, you may request a particular one for your event!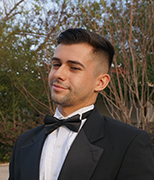 Josh is an energetic, fun loving guy who is passionate on doing his best at every event. He was born and raised in Houston and loves supporting his hometown by listening to local Houston artists and watching the Astros or Texans play. He attends Texas State University in San Marcos and is working on his Bachelor's in Exercise Sports Science so he can become a Physical Therapist. Some of his hobbies include staying healthy, working out, boxing, and learning other different style of Martial Arts. He also likes country & Latin dancing, tubing, hanging by the river, and taking his dog Obie out for a swim. Josh likes all types of music, but some of him favorites are Reggaeton, Hip Hop, Tejano, and obscure styles of Country music.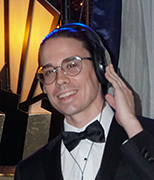 Scott Baumann is a lifelong student of live performance, multi-instrumental musicianship, audio engineering and production. During his events he strives to display his energetic personality and get people in the groove of having a good time. Outside of CEE, he produces music for clients and himself alike under the alias "Vernon Buam" & performs vocals as "Om I God". He is a native of Helotes who loves the outdoors, bicycling, running with his dog Esper, and mindfulness meditation.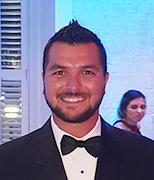 Matt is a passionate person and loves to do whatever it takes to make your experience the best for you. He grew up in Pleasanton, but moved in to the big city about 12 years ago. He also works in security for the Aztec Theatre. In his spare time, he likes to play sports, and walking his rescued dog "Babygirl". He loves all types of music, but especially the type that gets people dancing! One of Matt's childhood dreams was to be a DJ and possibly owning a dance nightclub. He's accomplished one of those goals, so we'll see what the future has next for him.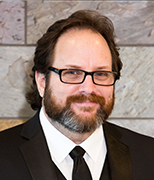 Larry Dale, aka DJ Lars, DJ Emeritus, has worked in music hospitality and event production since his teens in the late 80's, and joined Cutting Edge in 2009.  He has a degree in communication from University of South Florida and a broad background in club promotion, radio, music, media sales and audio engineering.  His vintage stereo conservation project is at www.RevolutionSoundsTX.com.  Larry's wife, Shannon, is a Master classical flutist and music teacher and they love raising their two little girls in a music-filled home.  He looks forward to your celebration!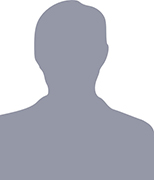 Bio for Joshua coming soon!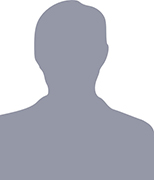 Bio for Roland coming soon!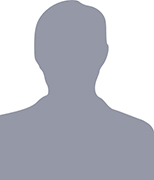 Brianna Brown
Karaoke Hostess - Photo Booth Attendant
Bio for Brianna coming soon!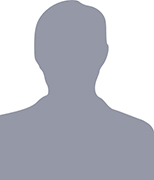 Amanda Arispe
Photo Booth Attendant
Bio for Amanda is coming soon.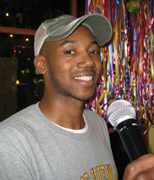 Hunter Davenport
Karaoke Host
Hunter is from the sizzling southern city of Shreveport, LA and has a diverse background in musical entertainment from songwriting to performing with high stepping marching bands. He earned a bachelor's degree in Business Administration in Marketing from A&M University the same year he sang his first karaoke song back in 2005. Hunter administers service and supply contracts across the nation in support of various government agencies. Karaoke is his passion and he encourages all to sing his or her heart out by singing a song you know, or don't know, as long as you are having fun.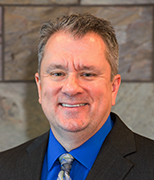 Ron Peene
President/General Manager
Ron started as a Mobile DJ in Chicago in 1987 and then started working for Cutting Edge in 1990, taking over the business in 1994. He graduated from UTSA in 1999 and worked as a volunteer firefighter for north Bexar County for 12 years.  Ron has an extensive radio background, working for the legendary WLS in Chicago, and then upon moving to Texas, at Power 93 in the late 80's and eventually spending 17 years at KISS Radio as "Ron James". His extensive experience and commitment to superior customer service is passed along to the staff on a regular basis. He loves music and working one-on-one with clients to integrate their favorite styles into their event. In his spare time, Ron likes to hike, bike, and go RVing with his family.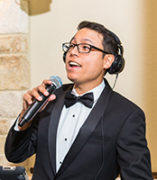 Jeremy knows how to set the fun, celebratory tone for your special day. He has mastered the key DJ components to cater to you and your guests. Growing up, Jeremy was surrounded by numerous musical spectrums who influenced his passion for what he loves doing the most. He played instruments, studied speech, and even received a degree in communications. He has been influenced by numerous artists. "One of the best things about being a DJ is seeing the audience tapping their feet on the dance floor, or seeing people jamming out to their favorite song."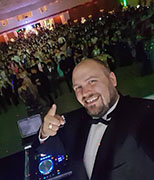 Wes is a passionate and charismatic man who brings nearly ten years of experience to the table. He has performed at over 450 events, most of which were weddings. He was born and raised in Texas, the majority in the small town of Lockhart. He's a Dad, and his hobbies include disc-golf, trivia nights, or catching a local brew with his friends. He currently works in property management as his full-time career. He focuses on creating a personal experience for each person he comes into contact with. He's quoted as having never met a stranger before. "Much like a fingerprint, each wedding is both unique and different. I'm the guy who wears his emotions on his sleeve. I'm often still moved at each event, which makes me strive that much more to bring my best performance each and every time."